Norman Petty Recording Studios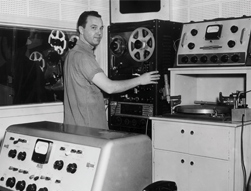 Musical greats such as Roy Orbison and Buddy Holly helped put Clovis on the rock 'n' roll map, creating the "Clovis Sound" at the Norman Petty Studios.
Visitors to the Norman Petty Studios can see equipment used by Buddy Holly and The Fireballs, such as the large dangling microphones, the original control board, clocks on the walls, original Coke machine and authentic 1950s furnishings. The curators have worked hard to keep the studio as it was so musical enthusiasts can take a step back in time to the grand old days of rock 'n' roll.
Norman Petty was a musical genius who, with his wife Vi and guitarist Jack Vaughn, formed a successful musical group of their own in the 1950s called the Norman Petty Trio. The Trio became one of America's top vocal and instrumental groups, and with songs like "Mood Indigo," soared onto the pages of musical history.
Petty's golden ears helped dozens of popular country, rock and pop musicians who recorded at the Norman Petty Studios: Buddy Holly and the Crickets, Roy Orbison, Buddy Knox, Waylon Jennings, Sonny West, Jimmy Gilmer and the Fireballs, Charlie Phillips, Jimmy Bowen, Johnny Duncan, Carolyn Hester, Chita Rivera and many others. Relive the Norman Petty legacy with a tour of the studio to hear original music recordings that take you back to the 1950s when it all happened.
The Norman Petty Recording Studios is located at 1313 W. 7th Street.
Studio tours are available by appointment only.
Please call the Clovis/Curry County Chamber of Commerce at (575) 763-3435 about information on scheduling a tour.