Built in the early 1900s, downtown Clovis was the heart of all things for the community, providing everything new settlers needed all within the few blocks on Main Street. Although the way we live has changed a bit since then, there is still a lot to see and do in t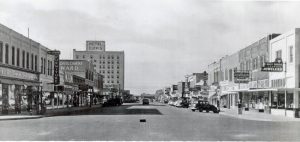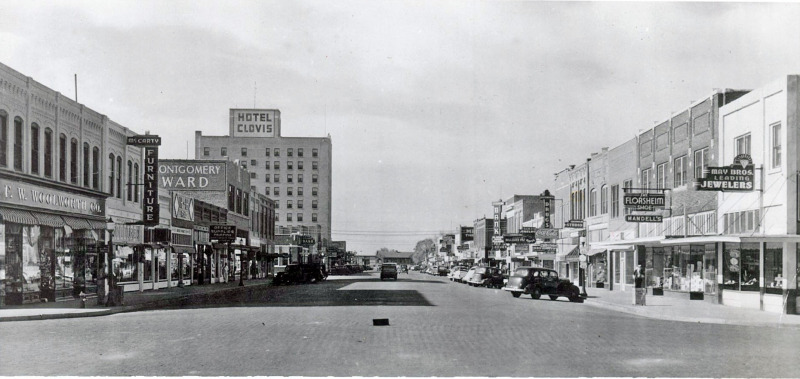 he downtown district.
Downtown Clovis continues to offer residents and visitors a great place to enjoy and explore. Architecturally, you will find something to please everyone. From art deco and mission-style buildings to the unique cobbled brick street, downtown is a lovely place to spend time shopping and strolling. Clovis is gaining a reputation as an antiquing destination – so don't forget your wallet!
Main Street Clovis features three historic theaters all within walking distance each theater brings its own unique attributes to downtown Clovis. Through architectural design and historical presence these theaters have brought culture, music and art to our community for almost 100 years!
The Lyceum Theatre, originally built for vaudeville, variety acts and silent movies, was the best performing stage house from the west coast to Kansas City. The Lyceum was the host to famous stars such as cowboy star Tom Mix, Shirley Temple and John Philips Sousa with his band debuting "The New Mexico March" at the theater in 1929. The Lyceum Theater is currently undergoing a detailed restoration to restore much of its historic qualities and will reopen as a community performing arts theater.
The Mesa Theater, also known as the Norman and Vi Petty Performing Arts Center, is known for its acoustical greatness and became the home to Petty's radio station and recording studio, producing many famous title tracks there including LeAnn Rimes hit "Blue" in 1994. The Mesa was donated to Clovis Community College and is slated for restoration and to be open for use in the Cultural Arts Series and theater classes in the near future. The State Theater is privately owned and hosts big band-swing dances. It boasts a dance floor, round tables and theater seating – a unique venue for a variety of events.
The anchor of downtown is the historic Hotel Clovis. This unique building was built in 1931 and as the tallest building between Dallas and Albuquerque it was a favorite host to a multitude of celebrities and dignitaries.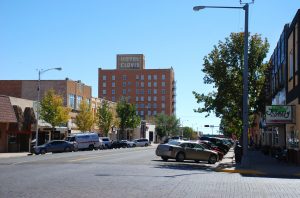 The Hotel was vacant for more than 20 years and in 2012 received an "extreme makeover" into the Hotel Clovis Area Lofts and was certified LEED Platinum project for the use of green and historic rehabilitation standards. Additionally there is more than 8,000 square feet of retail space in the hotel that the developer is vetting tenants for future businesses.
While visiting downtown, stop by the Railroad District. This new addition features one of the last historic steam engines, Engine 9005 and its tender, and now makes its home at the railroad park. It was restored by the Clovis Area Train Society and Clovis MainStreet. Clovis MainStreet is a 501c3 dedicated to the revitalization of the historic downtown district in Clovis. They support events and activities that happen downtown and are always looking for volunteers for projects and events.