Ag 50 of Eastern New Mexico was formed in 2004 to help ensure the long- term success and viability of agriculture through political activism, public involvement and the active promotion of agriculture as the major industry in our area. Long-term strategies of the committee include cultivating political relationships to positively affect agricultural policy and enhancing public involvement in agriculture through education and communication.
The farming, ranching and dairy farms that cover most of Curry County show a deep, rich history of agriculture and the importance it has played in the settling of Clovis in the Southwest.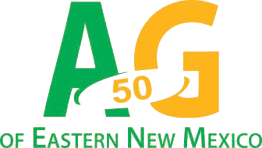 Curry County was first settled by pioneers whose primary interest in the area was land for farming and raising a family. The same is true today. Many farm and ranch families call Clovis home and agriculture still counts as a major source of economic growth and stability for our area. Because Clovis residents enjoy temperate weather, fertile soil and an average of 17.5 inches of rainfall each year, it is easy to understand why agriculture plays such an important role to the economy of Clovis and Curry County.
Beef cattle also play an important role in the agricultural impact of the county with beef cattle and calves providing more than $155 million to the county's economy. While dairy and beef cattle are the most common livestock in Curry County sheep, horses and Alpaca add diversity to the livestock of the area. Every year, the Curry County Fair offers great learning opportunities for both children and adults.
Farming also is a local staple for the community. The principal county crops are wheat, grain sorghum, grain corn, sorghum/corn ensilage and alfalfa. These crops are primarily harvested for local livestock and dairy consumption, but some are exported out to regional and national outlets. In addition potatoes, green beans, spinach, cotton, watermelons, apples, pumpkins and black-eyed peas are also produced during their seasons.
One strategy to share this bounty with local consumers is the Farmers Market which takes place every Tuesday and Saturday from July to October. For more than 15 years, vendors have come to Clovis from a 60-mile radius to sell their homegrown produce. As a program of the New Mexico Department of Agriculture, the Farmers Market honors Senior Citizen Commodities and EBT cards, so Curry County's home grown food is accessible and beneficial to all.
The dairy industry in New Mexico is the No. 1 agricultural activity in the state and has the greatest economic impact. Curry County ranks second in New Mexico for milk production.  The Curry and Roosevelt County areas have approximately 60 dairies (27 in Curry County and 33 in Roosevelt County) and the industry continues to grow. These dairies produce approximately 2.8 billion pounds or 238 million gallons of milk per year. The dairy industry is the largest economic producer of agriculture products in the state with an annual impact of approximately $2.6 billion dollars and $606 million in the Curry and Roosevelt County areas specifically.
Dairies in Curry County receive about $27 million each month and Roosevelt County dairies receive about $24 million monthly. Roughly 80 percent of this income remains in these areas, covering the costs of farm employees, vet services, medicine, cleaning services, equipment, repairs, fuel, etc. In addition, there are numerous suppliers critical to maintaining the dairy operations that rely on the area farms for business.
The local area dairies and farmers pride themselves on maintaining modern, high-tech dairy equipment while upholding the fine tradition of American dairy farming with a healthy, safe and abundant milk supply. They strive to remain diligent stewards of the land and work to ensure animal welfare remains a top priority.
Dairy producers in the area also seek to share their expertise with the next generation. In 2013 Clovis once again hosted the New Mexico State University, Texas A&M and University of Arizona annual, six-week summer program called the Southern Great Plains Dairy Consortium. The program is comprised of two six-week summer sessions and an internship. Students can earn up to nine credit hours at their home universities by participating.
With their recent expansion, Southwest Cheese is one of the world's largest cheese processing plants. They currently manufacture about 60,000 pounds or 1.5 tractor-trailer loads of cheese every hour and ship it all over the world. They process about 4 billion pounds or 344 million gallons of raw milk every year. Southwest Cheese produces Cheddar, Colby, Colby-Jack and Pepper Jack cheese. All cheese varieties leave the Southwest Cheese plant in 40-pound and 640-pound blocks. During the processing of cheese, about 700,000 gallons of water per day are extracted and polished for use in the plant. The excess water is then sent to the plant's treatment facility where it is processed for use for land application which recharges the aquifer.
This area also is home to another dairy first. DFA-Portales is a powdered milk processor and is the only approved USDA Grade A Milk Protein Concentrate (MPC) processor in the United States. MPC is most familiarly recognized in health food bars sold in grocery stores.