Retail Rockstars is a new initiative in Clovis to bring well-deserved recognition to current and in good standing Clovis/Curry County Chamber of Commerce retail business members. This program spotlights a different business every other week, where they will be presented with the floating guitar trophy and featured through numerous digital media outlets. The current holder of the floating guitar trophy is responsible for choosing the next winner, this gives them a unique opportunity to honor an eligible member in a personal way, forging new heartfelt connections in our community. This special aspect of the Retail Rockstars program not only allows chamber businesses to play a key role in the program, but it also creates stronger relationships in the community and provides an opportunity to diversify potential winners. Please congratulate our Retail Rockstars when you visit their businesses; support small businesses, shop local!
For more information on the Retail Rockstar program, please reach out to Kristen Cannon at (575) 935-4001 or send an email to kristen@clovisnm.org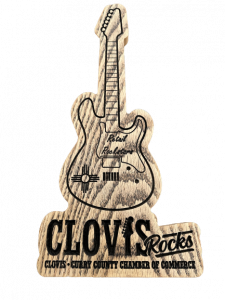 Current Retail Rockstar Business: Forever Blooms
Congratulations to Forever Blooms, our newest Retail Rockstar! Forever Blooms is an outstanding and essential member of our retail community, they have been serving all of our floral needs since 2001! We are grateful to Forever Blooms for supporting our community during every major event, from anniversaries, funerals and birthdays to homecomings, holidays or just because. Forever Blooms is also your one-stop shop for plants, unique gift items, custom tees and treats. Thank you to Bender Auto Group for choosing Forever Blooms as our new Retail Rockstar, stop by and see them at 1212 N Main or give them a call at 575-763-4242.
Past Retail Rockstar Honorees: