The importance of Blackwater Draw was first recognized in 1929 by Ridgely Whiteman of Clovis, New Mexico. The Blackwater Locality No. 1 Site (located within Blackwater Draw near Portales, New Mexico) is one of the most well-known and significant sites in North American archaeology. Early investigations at Blackwater Draw recovered evidence of a human occupation in association with Late Pleistocene fauna, including Columbian mammoth, camel, horse, bison, sabertooth cat and dire wolf. Since its discovery, the Blackwater Locality No. 1 Site has been a focal point for scientific investigations by academic institutions and organizations from across the nation. The Carnegie Institute, Smithsonian Institution, Academy of Natural Sciences, National Science Foundation, United States National Museum, National Geographic Society and more than a dozen major universities either have funded or participated in research at Blackwater Draw.  On display at the Blackwater Draw Museum are many artifacts including: prehistoric arrow points, mammoth molars and tusk fragments, prehistoric manos (grinding stones) and metates (grinding slabs, bison skulls and bones, prehistoric stone drills prehistoric shell fossils, and much more! The museum is located at 1500 S. Ave. K, Lea Hall Room 163 at Eastern New Mexico University campus in Portales, NM.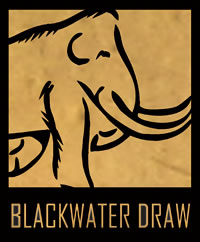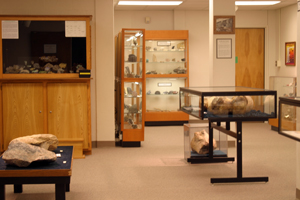 When Fred Miles and his wife Gladys moved to Roswell, New Mexico in 1928, they began exploring along the Pecos River. There they found beautiful quartz crystals called Pecos Valley Diamonds. This was the beginning of a love affair with minerals and rocks that lasted 40 years and marked the beginning of the Miles Collection. The collection was displayed in a back room of Fred's Texaco service station on Second Street in Roswell. If you mentioned any interest in minerals or rocks, Fred would proudly show off his collection, which also included Native American artifacts.
The Natural History Museum is affiliated with the Department of Biology at Eastern New Mexico University. The purpose of the museum is to promote understanding of the diversity of life, emphasizing the natural heritage of eastern New Mexico and the greater Southwest.
Thousands of visitors each year enjoy the educational displays and programs offered by the museum. Of particular interest to visitors are the live native plants and animals on display.
Norman & Vi Petty Rock n' Roll Museum
Norman and Vi Petty left an incredibly legacy in Clovis in the form of the Norman & Vi Petty Rock & Roll Museum. One of the best historical attractions in Clovis.
The Clovis Business Enterprise Center is the home of the Rock & Roll Museum as well as the Clovis/Curry County Chamber of Commerce at 105 E. Grand Ave. Design to allow visitors to experience a glimpse of Clovis's musical history.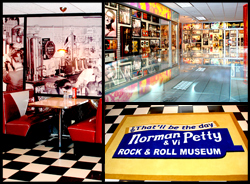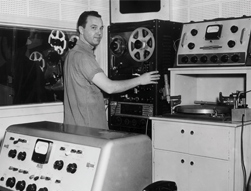 Norman Petty Recording Studios
The "Clovis Sound" was created by Roy Orbison and Buddy Holly in the historical Norman Petty Studios located at 1313 W. 7th St. in Clovis.
There are so many exciting historical attractions to enjoy at the Norman Petty Studios such as the equipment used by Buddy Holly and the Fireballs as well as an authentic, original 1950s Coke machine. Tours are available by appointment only and information about scheduling a tour is available by calling (575) 763-3435.